Business Owners Insurance
Protecting What You've Worked so Hard to Build
We won't cut corners. Finding the right business owners insurance for your unique needs isn't a linear process. In fact, finding the ideal policy can take a lot of twists and turns. Business insurance can be complex and evolving as your business grows. Agents from other insurance companies who simply walk you through a checklist are likely not taking the entire risk of what you have to lose into consideration when giving you a quick business insurance quote. At Burkhart-Presidio we take the time to ensure you are getting optimal coverage – for the best price.
Response When You Need It
When it comes to your business and it's bottom line, we know that getting a response from your insurance company on claims that you want and need your issues taken care of ASAP.
At Burkhart-Presidio, we have a team of agents that can come to your service when and if things get complicated.  We'll help you navigate your insurance and advocate for your business to ensure you are getting the best possible customer service from your insurance carrier/s.  Our team works with you to help ensure your claims are handled with the utmost priority and as fast as possible.
We only work with the best of the best when it comes to customer care and continuously evaluate the providers we represent to ensure they meet both our expectations of service and, more importantly, yours.

Navigating Business Insurance
Just Starting Out?  Own a Franchise?  Independent Contractor?  Growing Business?  Operate Machinery?  Workforce Safety a Concern?  Serve Alcohol? Professional Liability?
Our carriers offer a wide range of insurance products to meet the needs of Michigan Small Business Owners.
Most business owners who come to us are looking for solutions.  Some are just starting out and don't know the first thing about what their business needs.  Others are looking for more economic policies or are growing and need more/better coverage.
You may notice content on many insurance websites that reminds you to ask about specific coverage limits and deductibles.  This may be short-hand for a speedy process that puts the ball in your court to ensure your business is covered.  That won't happen at Burkhart-Presidio.  We don't expect you to know what you need to ask.  We hold our team to a high standard of providing you the professional guidance your business expects and needs.
All of the property your business owns needs to be covered by a business property insurance policy for the cost of repair or replacement to protect it against covered perils, such as a fire or a tornado.   In the event you need to repair your building, office or warehouse, or replace office furniture, computers, equipment or machinery, your business property insurance can cover you up to the coverage limits in your policy.   Beyond that, you'll pay out of pocket and/or your Commercial Umbrella kicks in.
For some businesses, determining the right level of property insurance can be a detailed task, one which our experienced agents at Burkhart-Presidio can provide guidance to minimize the hassle and optimize your coverage.
Important note!  Having an insufficient business property policy can result in a penalty or a fine you would need to pay for not purchasing enough insurance.  So, you'll want to make sure you're working with professional and experienced agents like those we have at Burkhart-Presidio who will take the time to ensure your bases are covered.
Accidents can happen… and probably will.  People can get injured.  Property you don't own can get damaged.  And, different types of businesses have different levels of exposure.
The key factor in obtaining the right general liability insurance for your business is understanding your unique risks and exposure.  Every business is different, even if they are in the same industry.
Your general liability coverage should protect you, your employees, your customers and the general public in situations that can arise from your business operations (both the common ones and the unforeseen).   This includes bodily injury, property damage, and personal injury along with medical and legal expenses that could be imposed on your business.
Just like with personal liability insurance, business liability insurance has coverage limits.  To protect you from paying out-of-pocket, we'll help you find the right amount of liability coverage balanced with a commercial umbrella policy if advised.
Your business can be insured for extra protection in the case of perils such as fire or tornado.  If, due to unexpected events, your business is unable to operate or incurs additional cost (such as rent) to continue operations during a period of repair, replacement and recovery, a business interruption policy may protect your income and cover unexpected extra costs.
As with all business insurance, there is a balance between risk, needs and cost.  Our Burhart-Presidio agents have the in-depth experience needed to guide you on making the right decisions for your business related to Business Interruption coverage.
Each state has its own set of workers' compensation laws that employers must follow, and in each state it is required if your business has employees.  Michigan / Indiana / Florida
Workers compensation insurance helps ensure that your business can provide your employees coverage for the cost of work-related injuries or diseases they may obtain on the job.  This may include medical expenses, a portion of lost wages, rehabilitation expenses and death benefits.
Note:  Workers Compensation insurance does exclude most diseases, including COVID-19.  A type of disease that may be covered is an occupational one, such as carpel tunnel syndrome.
There are two primary ways to structure workers compensation insurance in your insurance policy portfolio.  Our Burkhart-Presidio agents will help you determine if it is most beneficial to write up a separate a policy or include it with your business insurance.  Typically level of exposure will determine the best approach for your business.
Have you heard the term "bonded and insured"?  It's quite common and contractors and service providers will promote.
Business or commercial bonds (sometimes called commercial surety bonds) are legally required by state law in various industries.   Bonds are agreements between you and your customers, written by a 3rd party called a surety.  Essentially, they are contracts that protect your customers in unique situations.
There are many different types of specialty bonds that certain types of businesses require.  Here are just a few that Burkhart-Presidio regularly assists business owners with:
Notary bonds – Needed if your business provides notary services (such as the tellers at banks)
Alcohol bonds – Required for distributors, manufacturers and sellers of alcohol, beer and wine.  Guarantee compliance with federal and state laws pertaining to the sale, manufacturing and warehousing of alcohol.
Janitorial bonds – Needed if your business provides professional home or commercial cleaning services to protect you and your employees against accusations of theft.
Performance bonds – Needed in some industries, such as commercial construction, road construction and even landscaping that provide assurance to your customer that you will fulfill your contract and complete your work.
Bid Bonds – Similar to Performance Bonds, provide protects the owner or a developer in a construction bidding process, ensuring that the contractor honors the terms of the bid.

A Business Owners Policy (BOP) is a combined package of the most-needed types of insurance for small and medium businesses.  It includes commercial liability and  commercial property and may include business interruption insurance.
Business Owner Policies are commonly used by businesses like independent contractors, retail shops and boutiques, and restaurants and coffee shops.  Your Burkhart-Presidio agent will help you assess if a BOP policy can cover your business.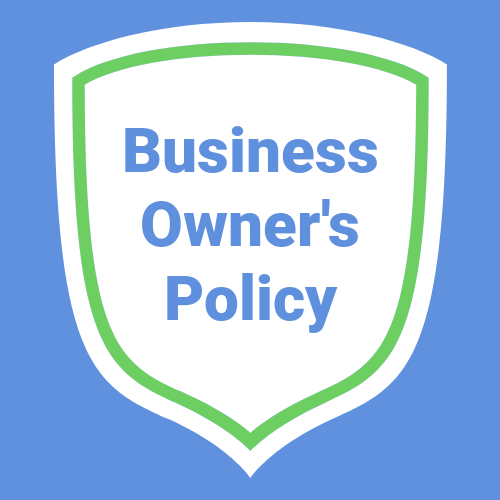 Additional Types of Business Insurance

If you're a small business owner, you may also be able to buy additional insurance coverages and riders to customize your policy based on your specific needs.
These may include:
Experience the Burkhart-Presidio Difference
We are here to serve the ongoing insurance needs of all structures of businesses in our local communities. Give us a call today for a complimentary quote.